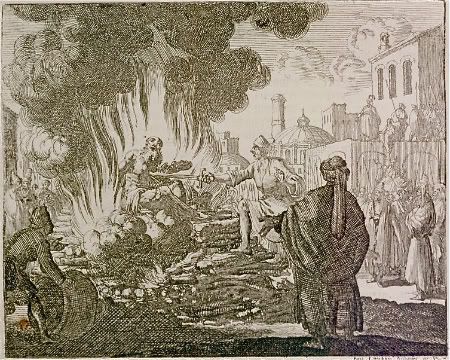 The martyrdom of Polycarp, who was stabbed to death after being burned at the stake for his unyielding faith in Christ.
And have you forgotten the exhortation that addresses you as sons?
"My son, do not regard lightly the discipline of the Lord,
nor be weary when reproved by him.
For the Lord disciplines the one he loves,
and chastises every son whom he receives."
It is for discipline that you have to endure. God is treating you as sons. For what son is there whom his father does not discipline?
-Hebrews 12:5-7
The Spirit himself bears witness with our spirit that we are children of God, and if children, then heirs - heirs of God and fellow heirs with Christ, provided we suffer with him in order that we may also be glorified with him.
-Romans 8:16-17
If anyone would come after me, let him deny himself and take up his cross and follow me. For whoever would save his life will lose it, but whoever loses his life for my sake will find it.
-Jesus (Matthew 16:24b-25)