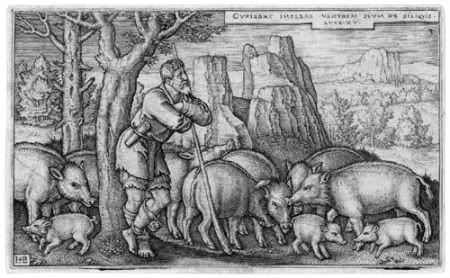 I read an abridgment of John Owen's masterful Of the Mortification of Sin in Believers a little over a month ago. This book was the most insightful and profound thing I have ever read on sin and the trials in the life of a believer. Modern evangelical writers could write an entire book with the content of one paragraph by Owen and have it be praised as a weighty thing. I knew that there was so much truth to be explored in this book so I hoped to go over it again slowly in the future. I did just that a couple of days ago, going over a small section with a friend who had also read the book. Many things stood out to me in the section we went over but the thing I want to discuss here is a brief mention by Owen of one of my favorite parables, the Parable of the Prodigal Son found in Luke 15:11-32.
When the believer is aware of some sin in their life they know that it is God alone, by His grace, Who can change their heart and destroy their sin. It is God who sanctifies. It is God who removes the heart of stone and gives the heart of flesh (Ezekiel 36:26). While any Christian must assent to this truth it has often been difficult for me to understand how, when dealing with sin, to simply look to God for the killing of this sin instead of looking to my own strength to be free of it. And this is the question that John Owen deals with here, how can we look by faith to Christ for the killing of our sin?
Firstly, Owen says that we must, by faith, fill our heart with a right consideration of the provision that God has made in the work of Christ for the mortification of our sins. It is in reference to these riches in Christ that Owen cites the Parable of the Prodigal Son and brings out an aspect of that story which I had never thought of before. It is an aspect that I think is very important in my own battles with sin and an instruction on how we "look by faith to Christ," to be free from sin.
Owen writes:
This helped the prodigal when he was about to faint, that there was enough bread in his father's house. Even though he was a great distance from home it relieved him and strengthened him that at home he would find help. In your greatest distress and anguish, consider the fullness of grace, all the riches and treasures of strength, might, and help that are laid up in Christ for our support. 'And from his fullness we have all received, grace upon grace' (John 1:16). 'For in him all the fullness of God was pleased to dwell' (Col. 1:19).
I think what struck me about this was that Owen seems to suggest that, for the Prodigal, it was a knowledge of the riches of his father which was a motivation for him to leave behind his life of debauchery. It was not simply a feeling of guilt or his disgust with the depths to which he had fallen. I know that for me in dealing with sin it has been guilt or disgust with myself that has usually been my motivation for wanting to be free. But I think looking to the riches and complete sufficiency and provision in Christ is the motivation I should have in seeking freedom from sin. Guilt and disgust seem only to motivate after I have already failed but those motivations quickly fade. A continual knowledge of my "riches and treasures" in Christ is something that I think cannot fail in motivating me toward holiness.