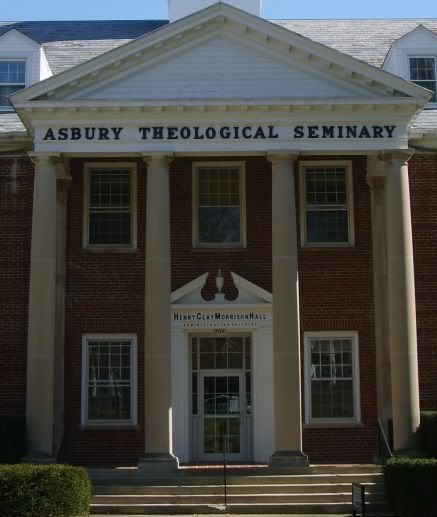 On Tuesday our Barnabas Group (Bible study, prayer, accountability) had our last meeting with an "elder" from our seminary. We had the idea of inviting a more mature Christian once a month to share wisdom and insight about the Christian life. Earlier in the semester we had Dr. Joe Dongell and Emmanuel Akanet come and share with our group. This Tuesday we welcomed Dr. David Bauer, the dean of the School of Biblical Interpretation and Proclamation and Professor of Inductive Biblical Studies at Asbury Theological Seminary. Dr. Bauer is highly respected as one of the greatest intellects on campus and his knowledge of the minutest details of the Gospel of Matthew is quite amazing.
Dr. Bauer began with his story. He was born into a devout Free Methodist family. He said that he could not remember a time when he didn't have faith in God. In his parents he saw, "such authentic, genuine life that he was drawn to it."
Dr. Bauer went to Spring Arbor College and then came to Asbury Theological Seminary right out of college. His first year at Asbury was an unhappy one. Dr. Bauer struggled with whether or not he should be in Christian Education or be a pastor. He said that one experience he had while working at a church helped him to decide. He did not enjoy pastoral visitations but was on one and he found himself going through the conjugations of Greek verbs in his head during the visitation. This helped him to realize that education was probably a better route for him than pastoral ministry.
He got his Ph.D. at Union Theological Seminary and was immediately hired at Asbury. One challenge that Dr. Bauer mentioned about Asbury is that it can be a place where people want to look holy and this can discourage honest discussion about struggles and confession of sin. He stressed the importance of confession of sin saying, "one of the best ways to deal with sin is to acknowledge our failures." He said that Christian perfection begins with the recognition that one is not perfect.
An important aspect of his spiritual growth was his relationship with three men who served as mentors for him. He called them, "people in whom I saw Christ revealed most positively." All three of these men were professors in biblical studies. The most important of the three was Dr. Robert Traina who was a professor at Asbury. He said that these men taught him how to be a man. He said they taught him how to process things, how to relate to people and that they taught not only psychological and social maturity but also spiritual maturity.
When it came to the subject of his personal devotion, Dr. Bauer emphasized prayer and Bible study. He said that he gives specific times to prayer but also that he has a sense of constantly being in the presence of God and constantly being in conversation with God. He reminded us of Paul's words to, "pray without ceasing." He said concerning prayer and worship, "special times exist to indicate that there are no special times. They indicate that all time is sacred." Concerning Bible study, Dr. Bauer said that he doesn't like to separate devotional and academic reading of the Bible. He said that academic reading of the Bible should be worship.
When it comes to books outside of the Bible that have been highly influential for Dr. Bauer's life, he mentioned Bonhoeffer, Patristic literature, Luther, Calvin, Barth and Bruner.
It was wonderful to have Dr. Bauer with us. I felt a strong sense of holiness from Dr. Bauer and I believe that his words about abiding constantly in the presence of God are very true.