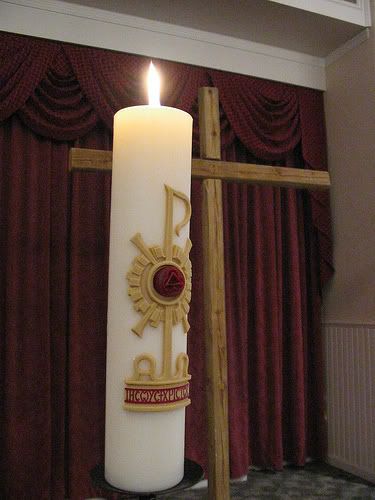 Now that finals are winding down and as I prepare to leave
Asbury
, I want to reflect on the amazing blessings I have received from God at this place. I have been at the seminary for almost two years now and my life has been transformed more profoundly in this time than any other equivalent period of my life. The first subject I will write on is the church I have attended almost the whole time I have been here. I found St. Patrick's church, thanks to my friend Ed, the third week I was at
Asbury
. The three great blessings of St. Patrick's I want to concentrate on are: St. Patrick's has allowed me to find God in the Eucharist and the liturgy; the preaching of our priest, Father Peter Matthews; and last but not least, the community at St. Patrick's - the people I've met in this church.
I Eucharist and Liturgy
Before I came to
Asbury
I had read some Catholic and Orthodox authors, particularly Chesterton, a Kempis and
Dostoyevsky
, which made me more open to those traditions. I had also become friends with a Catholic guy, who had great knowledge of the Fathers and an obvious devotion to Christ, at the book store I worked at in Vancouver, Wash. So when I came to
Asbury
I was ready to embrace liturgy and to have my understanding of the
eucharist
changed. St. Patrick's has been the perfect classroom to learn more about the liturgy. As my priest has said, "Liturgical prayer forces me to pray in line with the redemptive historical narrative of scripture. Liturgical prayer forces me to pray in line with God's will disclosed in scripture and the living tradition of the Church." I have also come to see that Scripture and the Church through the ages were serious when they said that the Presence of Christ is really in the
eucharist
. When you think of how God has chosen to relate to man, that is,
incarnationally
in His Son our Lord Jesus Christ, then it makes sense that God would continue to meet us materially. This happens in the
eucharist
. I believe that God meets me every week substantially there. I find that I have a hunger for it and and am fed spiritually each week when I take the true Body and Blood of Christ in the
eucharist
.
II The Preaching of Father Peter Matthews
I have been greatly blessed by the preaching of Father Matthews. His preaching is authentic and doesn't have the off-putting quality of some highly polished mega-church style sermons. Peter preaches from Scripture and he gives the word of God the highest authority in his sermons. He also often cites personal experience in his sermons which makes them easier to connect to our own lives. I wish that I would have taken notes more often at St. Patrick's but one sermon I do remember was on the line from the Lord's prayers, "Thy Kingdom come on earth as it is in Heaven." Peter defined the Kingdom as God's reign. He said that this was not a prayer of resignation like in Gethsemane and that Jesus isn't talking about us going to Heaven but about Heaven coming to us. I loved Peter's image of Heaven being right on the other side of a curtain, that it is real and immanent. This imagery made me think of an experience I once had when I was deep in prayer. I suddenly became profoundly aware of God's presence behind every object in the room, I felt that there was a kind of brightness behind the very blanket on my bed which I clutched as I prayed. It was one of the most mystical experiences I've ever had and I thank God for it. Another good point Peter made was that we don't build the Kingdom of God, God does. We are to be a witness to the Kingdom God has built and is building. We are to live lives that show what it looks like when God is in charge. Peter said in this sermon that discontentment comes from our placing our longing for hope and fulfillment in temporal things when our longing for hope should be placed on the Kingdom of God. He identified some basic longings that are fulfilled when the curtain is pulled back and the Kingdom is revealed, our longings for justice, beauty and for relationship and that these are all fulfilled in God.
III The Community
When I went on a church retreat earlier this year I became much more aware of how amazing the congregation at St. Patrick's is. We have a congregation of interesting people of diverse backgrounds who know how to have a good time and seek to serve the Lord and one another. It's been great going to church with some seminary people I've gotten to know better. Dr.
Tsoukalas
and his wife Sandy Richter go to St. Pat's and I've gotten to know him a little better. It has been interesting to hear him talk of the problems of postmodernism and how naively it has been embraced in many Christian circles. He encouraged me not to give up on Protestantism just yet and that people who will stand firm for doctrine should stay and fight - so that's what I'm doing. Another one of my favorite people at St. Pat's is Hubert who is a Greek professor at the University of Kentucky. It's great to see a committed Christian in the context of the secular university and I have been greatly impressed by his wisdom and great knowledge of a diversity of topics. I regret not having gotten to know many of my brothers and sisters at St. Patrick's church better.