Before coming to Guatemala, the one thing I knew I wanted to do in the country was climb the tallest mountain in Central America, Volc
á
n Tajumulco. Tajumulco is a large stratovolcano in the Northwest of Guatemala with an elevation of 13,845 ft.
A group of four students from our Spanish school were picked up at 3AM Saturday morning for a 2 hour drive to a village at the base of Tajumulco. There we were supposed to find our guide to take us up the mountain but our driver was unable to find him in the village. He eventually found a teenager who was willing to guide us up the mountain. This young man, Julio, was an indigenous person and a member of the
Mam
tribe, a people group descended from the Mayans. It was very interesting to talk with him about his family in Spanish as we climbed the mountain. It was also interesting to hear him speak in his native tongue on his cell phone in a language which sounded very similar to so
me of the languages I've heard spoken by Native Americans from the U.S.
The climb itself was not very difficult and followed a well-trod path until about 500 ft. below the summit where we began to scramble over rocks. The views from the summit were spectacular with the range of Central American volcanoes stretching to the south and the mountains of southern Mexico to the north. We shared our lunches and water with our guide at the summit as he had been unprepared to lead a group up that day and were back at the car by four in the afternoon. It was a great introduction to hiking in Guatemala. Here are some pictures: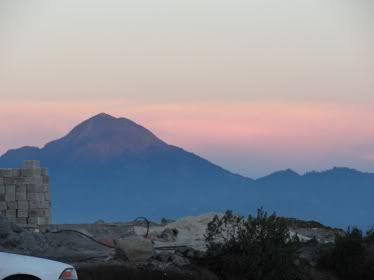 At sunrise looking at a nearby peak in northern Guatemala.
We came across a number of cows grazing at the 9 or 1o,ooo ft. elevation.
Looking south at the volcanoes stretching into Central America. The closest is Santa Maria, which is nearby Xela, the city I'm staying in.