My time in Guatemala has been very rewarding so far. The Spanish language school where I'm doing a monthlong clerkship rotation has many interesting activities in the community including a thrice-weekly clinic where I can stumble around in my Spanish and try to help a few people out. I also climbed the tallest mountain in Central America on Saturday and will be doing a post about that soon.
But this post is about something greatly more important than learning Spanish, practicing medicine or climbing a mountain. This morning I, along with the classmate I came down with, worshipped with our brothers and sisters at Iglesia Presbiteriana Emanuel, "Emanuel Presbyterian Church." We sang some familiar (In Christ Alone) and some unfamiliar hymns. But we did that which is universal in Christendom, that is proclaim the creed and celebrate the Eucharist. It was a great blessing to worship the Lord and receive at the table of the Lord with these brothers and sisters. It turns out that this church also houses a seminary on its campus, Seminario Juan Calvino de Guatemala, "John Calvin Seminary of Guatemala," teaching good conservative Reformed doctrine.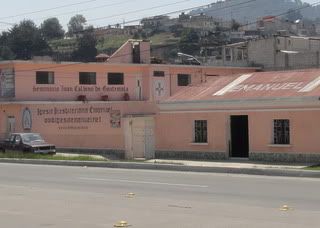 Emanuel Presbyterian Church and John Calvin Seminary of Guatemala
Later in the day as I wandered around the Parque Central (Central Park) of Xela I was surprised by the countenance of a familiar face, of the late Pope John Paul II. The Cathedral had enormous posters up celebrating his beatification. Even though I don't agree with him on many things theologically he is a man who made an impact on me when he was still living and for whom I have a great deal of respect.
The poster reads: Beato Juan Pablo II. La Iglesia se alegra en la tierra pues hay un neuvo Santo en el Cielo. "Blessed John Paul II. The Church rejoices on Earth as there is a new Saint in Heaven."