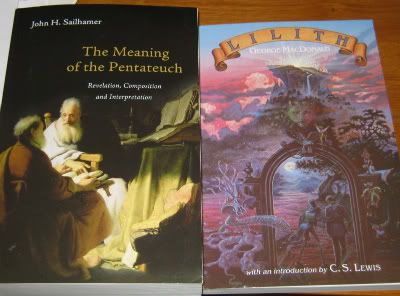 I finally put the gift card I got from my parents for Christmas to work and bought a few books. Unfortunately the next four months will probably be too busy to make much of a dent in either. The two I bought are very different from one another.
Lilith
by George MacDonald has been on my list of books to read for five or six years now since reading
Phantastes
by the same author. It was of
Phantastes
which C.S. Lewis wrote, "that the whole book had about it a sort of cool, morning innocence, and also, quite unmistakably, a certain quality of Death,
good
Death. What it actually did to me was to convert, even to baptise (that was where the Death came in) my imagination." I also found
Phantastes
to be captivating and was told that if I liked that book I would probably also like
Lilith
.
For Lent my church read through the Pentateuch. I stayed pretty much on schedule up until Leviticus and then kind of fell off. But I was reminded once again about how little I understand the Old Testament. I was also reminded of a book which John Piper had recently said was one of the best he'd ever read, John Sailhamer's The Meaning of the Pentateuch. It will probably take me a decade to read this book but if I ever do I think it will be well worth it.