Lacking inspiration to write about anything else at the moment I'll reflect on this year's snowboarding, a sport I've grown to love more each year for the last five or six years. Prior to that time, from when I was 12 or 13 years old, I was a skier and would usually go up a couple of times a year. I did more snowboarding this year than any previous year.
This year's snowboarding started with my Christmas break when I went home to Southwest Washington state. I snowboarded Mt. Hood at Ski Bowl and Mt. Hood Meadows with my younger brothers and various friends: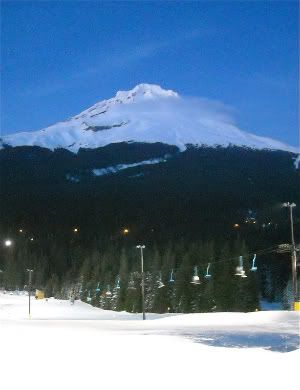 Looking up at Mt. Hood at dusk from Ski Bowl.
Lots of powder on the upper runs at Ski Bowl at night.
Sunset from Mt. Hood Meadows
Unfortunately I have no pictures but I also spent a rainy New Year's Eve and early New Year's Day on Mt. Hood with a brother and a friend. We snowboarded in the sometimes pouring rain which was a new experience for me. We made a fun time of it though trying to hone our jumping skills and enjoying the firework show at midnight on the mountain.
When I returned to California I made three trips up to Snow Valley near Big Bear in the mountains north of Loma Linda and the Inland Empire. The mountains in Southern California got more snow this year than in a long time so the snowboarding has been better than usual down here this year.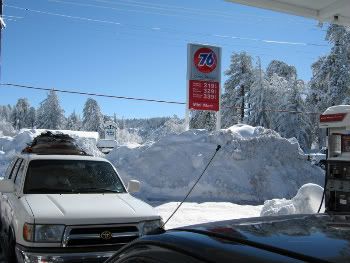 Mountains of fresh snow in a gas station parking lot as we made our way to Snow Valley.
To cap off the year's snowboarding I made a trip up to Mammoth Mountain a couple of weeks ago. We left Loma Linda at 3AM, made it to Mammoth in time for the lifts to open, left at 4PM when the lifts closed and were back home in Loma Linda around 9:30.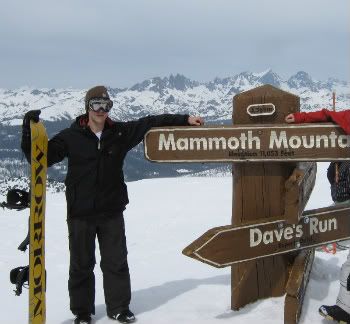 Top of the Sierra, Mammoth Mountain