... or the hike to Deep Creek Hot Springs.
So last night, after our Christian Medical and Dental Association meeting, some of my housemates and I decided to go for a hike on Saturday. We took out the trail book I had recently purchased and located a nearby hike that looked interesting. The hike was to Deep Creek Hot Springs outside of Hesperia, California. The drive up was interesting and involved a good amount of time on dirt roads. The first thing that made this hike interesting was that the trailhead was on private property. We arrived at the "ranch" payed a fee to park and got a free trail map. The weather was perfect for a hike to hot springs, being sunny but also breezy and cool. As we began the hike through the desert populated with agaves, ephedra and ocotillo, I began to think about some of my preconceived notions about the kind of people who hang-out at hot springs. The only other hot spring I had ever been were on the Owyhee River outside of Ontario, Oregon. At that time it had just been my family so I don't really know how I had come of formulate these preconceived notions short of reading about Esalen in Big Sur, Calif. So I had to laugh when we came into view of the springs and what is the first thing that I see? A big naked hippie.
The springs were actually very nice and are located right next to Deep Creek which is a sizable stream for the middle of a desert. When we got to the springs we were lucky to find that the top pool, above the few other people there, was free so three of us jumped in. The water was about the same temperature as your average hot tub and only smelled very faintly of sulfur. To make the conformity with my preconceptions complete, we smelled the scent of a certain herb being smoked down below as we enjoyed our time in the pool. Overall it was a very interesting hike and I was not disappointed by the hot spring. Here are some nudity-free pictures for your enjoyment:
Deep Creek, near the hot springs.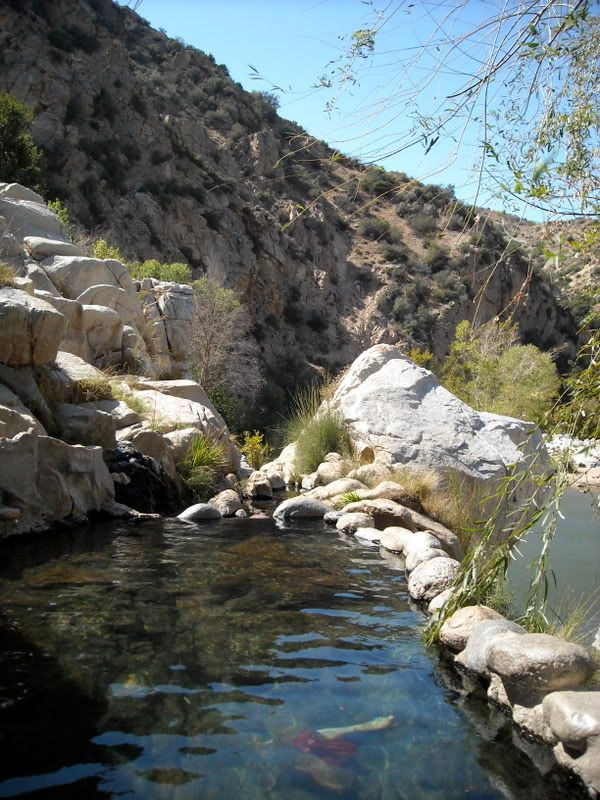 This is the top pool we found and hung out at for a while.