I arrived home after a long day of studying to find a package with my name on it at home. I knew right away that my new ESV Study Bible had arrived. I've been looking forward to getting this Bible for at least six months now and I thought the earliest I would get it would be tomorrow (the 15th) which was listed as the release date on the website. I felt like a little boy on Christmas morning as I tore apart the packaging and began to get to know my new best friend. My trusty NIV Study Bible, given to me by my grandparents who have since passed away, has been my companion for over a decade now and is seriously falling apart. My new ESV Study Bible will replace it and my venerable, marked-up NIV will take a place of respect high on my bookshelf.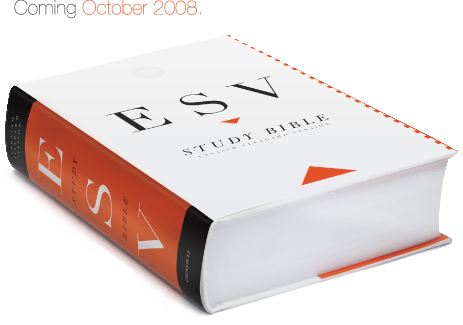 One of the things that made me so excited about this Bible are the theologians who worked on it and some of the pastors who recommended it. John Piper said,
"
The ESV is a dream come true for me. The rightful heir to a great line of historic translations, it provides the continuity and modern accuracy I longed for. Now the scope and theological faithfulness of the ESV Study Bib
le study notes is breathtaking. Oh how precious is the written Word of God.
" And Mark Driscoll, "
The ESV Study Bible is the most important resource that has been given to the emerging generation of Bible students and teachers. The ESV Study Bible is the best. Period.
" I've cracked it open and have liked what I've seen so far. I'll look forward to another decade or two of meeting God through this Bible. Wayne Grudem of Phoenix Seminary was the general editor and the Anglican theologian, J.I. Packer was the theological editor.