Recently I read a passage from Numbers that I had read before but which really struck me this time around. In Numbers ch. 11 we find the Israelites, after the Exodus, setting out from Sinai and moving toward the Promised Land. We also find them hardening their hearts during their time of testing in the wilderness (Heb. 3:8). The Israelites complained of their misfortunes, expressed a craving for meat instead of only manna and wept before Moses. The Lord's righteous anger was kindled against His people and Moses lamented his situation as mediator between the people and God saying, "I am not able to carry all this people alone, the burden is too heavy for me (11:14). God is merciful to Moses and the people, commanding Moses to gather seventy elders from Israel so that, "they shall bear the burden of the people with you (11:17)." To equip the seventy elders to bear the burden along with Moses, God promises to, "take some of the Spirit that is on you [Moses] and put it on them (11:17)." It was Moses' responsibility to gather the seventy elders and apparently each of the seventy who were to receive the Spirit were "registered (11:26)" in some way. The Lord had commanded Moses to gather with the seventy elders at the Tent of Meeting, where God would meet them and pour out His Spirit upon them.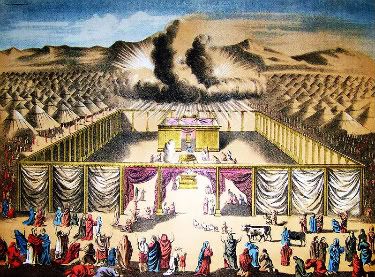 This is where the story, from my perspective, gets very interesting. It turns out that two of the elders who had been registered, Eldad and Medad, did not show up at the Tent of Meeting with the other sixty-eight but were still somewhere out in the camp. When the Lord came down and met Moses and the elders and put His Spirit on them it says that they prophesied. Not only did the sixty-eight who were with Moses prophesy but so did Eldad and Medad who were out in the camp. As I read I couldn't help but try to imagine what this all looked like and I can't help but think it probably looked somewhat extraordinary. Having no memory of this passage, when I saw that Eldad and Medad had not gone to the meeting as they should have, transgressing Moses' instructions if not also the Lord's, I thought that there might be some display of God's wrath or at least displeasure from Moses. But this is where I was really shocked. Apparently Joshua the son of Nun had the same reaction I had when he heard the news that the two truant elders were out in the camp prophesying. Joshua said, "My lord Moses, stop them."
It was Moses' response to Joshua which made this passage so amazing to me. Moses' answer to Joshua's concern was, "Are you jealous for my sake? Would that all the Lord's people were prophets, that the Lord would put his Spirit on them! (11:29)." I think Moses' attitude here marvelously points forward to prophecy of Joel and also to the apostolic teaching concerning spiritual gifts. Moses longed for a day when all of God's people were prophets and the Lord would put His Spirit on all His people. In Joel we read the prophecy which was fulfilled at Pentecost and continues to be fulfilled to this day:
"And it shall come to pass afterward,
that I will pour out my Spirit on all flesh;
your sons and your daughters shall prophesy,
your old men shall dream dreams,
and your young men shall see visions.
Even on the male and female servants
in those days I will pour out my Spirit (Joel 2:28-29)."
Moses' desire also fits with the admonitions of the Apostle Paul found in 1 Corinthians ch. 14. In the first verse of that chapter Paul exhorts, "Pursue love, and earnestly desire the spiritual gifts, especially that you may prophesy." Moses desired it, the prophets promised it and the Apostle exhorts us concerning the gifts of the Holy Spirit, who with the Father and the Son is worshipped and glorified, and who dwells in all Christians (John 14:17).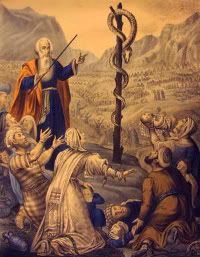 Ten chapters later, in Numbers 21, the One who makes all of these benefits and the gift of the Holy Spirit available to sinful man is prefigured. Not only was Christ prefigured but He was prefigured as crucified. When the people again hardened their hearts and grumbled against the Lord, He sent "fiery serpents" among them and many of the Israelites were killed. But Moses interceded and was instructed by the Lord to make a bronze serpent and lift it up on a pole so that anyone who was bitten could look at this brazen serpent and live. Jesus said to Nicodemus, "And as Moses lifted up the serpent in the wilderness, so must the Son of Man be lifted up, that whoever believes in him may have eternal life (John 3:14-15)." Therefore, whether it be the gift received by Eldad and Medad or God's gifts for His people today, all of them are only through Christ and His death and resurrection. In his discourse on the blessings we have in Christ in Ephesians, Paul writes to the Christians at Ephesus, "In him you also, when you heard the word of truth, the gospel of your salvation, and believed in him, were sealed with the promised Holy Spirit . . .(Eph. 1:13)" Paul makes clear how this blessing was acquired for us, "In him [Christ] we have redemption through his blood . . . (1:7a)," and "But now in Christ Jesus you who once were far off have been brought near by the blood of Christ (2:13)," and he writes that we have been reconciled to God, "in one body through the cross, thereby killing the hostility."