With the beginning of my third year of medical school at Loma Linda, this last 4th of July weekend was my last guaranteed three-day weekend of freedom for a long time. I wanted to do something other than just stay in Loma Linda and be lazy so I was glad to find a classmate who didn't have any plans. We decided to head to Zion National Park where we camped for two nights and did some hiking. I had driven through part of Zion once before and had found it to be pretty amazing but this time I was amazed by the beauty of the park as I hiked and got to explore a little more. We arrived on Friday at our reserved campsite at the Watchman Campground and after getting situated grabbed a tour bus into the heart of the park. The only hike we did that day was to Angels Landing, a rocky spire in the middle of canyon with awesome views of the park. On Saturday we headed up a bit earlier to the Temple of Sinawava and began hiking up the Zion Narrows, spending much of the time hiking in the river itself. We hiked about 6 miles up the narrows for a total round trip of 12 miles. The trip was also a great time of Christian fellowship as we spent a lot of time discussing our faith in Christ and also listening to some Matt Chandler sermons on the way to and from Zion.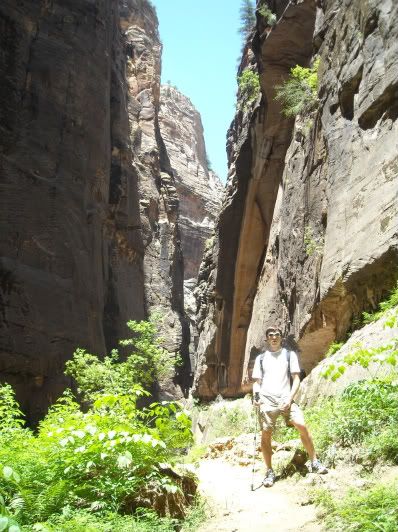 Zion Narrows - the spectacular effect of a river
slicing a narrow canyon through solid rock.
The view South from Angels Landing - some thunderstorms went through as we hiked to the top and back down.