With a blog called "Northwest Anglican" one might expect to find some writing about Anglican goings-on in the Pacific Northwest. But up until today that has not occurred. The truth is, I've never set foot in an Anglican or Episcopal church in the Pacific Northwest. The United Methodist church I was raised in would probably have been pretty indistinguishable though from a lot of Episcopal churches.
But as of today, the lack of commentary on Northwest Anglican issues ends, at least for one post. A fellow parishioner at Christ's Church, where I attend in Highland, California, alerted me today to a bit of news. I was directed to Virtue Online where David Virtue is
reporting
the formation of the "Diocese of Cascadia," made up of orthodox Anglican churches in the Pacific Northwest. The diocese is small right now, with only seven founding churches, all in my home-state of Washington. A bishop of the Reformed Episcopal Church will head the fledgling group as it applies for membership in the newly-formed Anglican Church in North America.
I appreciated the attitude expressed by a rector of one of the seven churches. In his sermon at the inaugural synod meeting, Kevin Allen said, "I believe we are committing to unite that which has been too long divided, to revive a great mission whose seeds were planted on these Northwest shores centuries ago, to help our church's missionary outposts reach more people for Christ so that they may know His transforming power in their lives. Today, we are committing to an Anglican reawakening and to contributing to a Christian reawakening for a revival in the Pacific Northwest."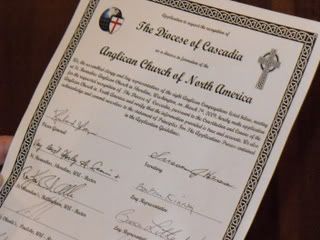 If I ever get to return to the Pacific Northwest perhaps I will get to worship in a church in the Diocese of Cascadia. May God bless the mission of these faithful Christians.